Pods Scope of Support FAQ – What to do if the site is using Pods
You may come across sites now and again that have something called "Pods" installed. Pods is not a functionality we offer to just any customer, its more of a premium offering on a "per-need" basis.
So, What is Pods?
Pods allows you to create a custom post type or custom taxonomy. It also allows you to extend an existing post type or taxonomy with custom fields or extra meta options. You may come across sites that already include a blog, but might require an archive of something else in addition to their regular blog posts – e.g. books, journals, team members, client portfolios, etc. It makes for a better customer experience and a simpler builder experience to create a whole new post type for such an item.
How do I know if a site has pods?
To recognize if a site has pods functionality, you will see a link to "Pods Admin" in the admin dashboard view, in the area under the site settings and tools. You will also probably see a Custom Post Type in the admin dashboard in the area under regular posts and pages.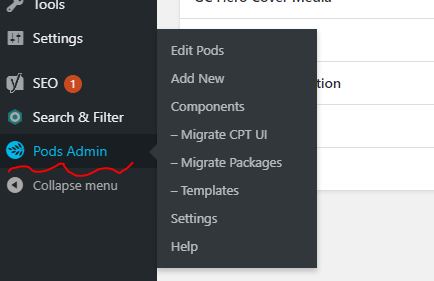 What do I need to know about Pods?
In regards to sites with Pods functionality, builders just need to know the following:
You will not be installing or adding pods to any site that doesn't already have this functionality set up
When doing QA, revisions or updates on a site containing Pods, you will not create any new pods or pod functions, you will work within the custom content types that have already been created
Sites with pods functionality will come to you already set up and ready for use
The two plugins "approved" for such sites are "Pods – Custom Content Types and Fields" and "Pods Beaver Themer Add-On" – you are allowed to update these plugins via the regular plugins dashboard
What am I expected to do on a site that has Pods?
For a site with Pods functionality, you will only be expected to do the following:
"Add new," fill out the fields and publish posts under the preexisting Custom Post Type
"Add new," fill out the fields (if any) and publish terms under the Custom Post Type's associated Custom taxonomies
Edit existing posts or category details for the custom post or taxonomy types
Edit preexisting singular or archive themer layouts for a Custom Post Type or Custom Taxonomy to modify the styling or positioning of modules
What if I am asked to modify a field label or add more functionality to a pod?
If you are asked to modify an actual field itself, you will need to do that in the "Pods admin" area, however, you are not expected to know how to do this.
Editing fields in the pods admin can result in catastrophe if not done properly.
So, unless you are extremely familiar with the pods interface, do not touch the pods admin or fields within it – instead, reach out with a clarification or for guidelines on the best way to proceed.
What if I want to learn about Pods?
You can reference our documentation on the use of pods if you are eager to learn:
This section will introduce you to the concept of Pods – Introduction to Pods
This section covers how to add/edit fields on a custom post type from the pods admin area and how to add new posts under it – Create a Custom Post Type
This section covers how to add/edit a custom taxonomy and how to add terms to one – Create a Custom Taxonomy
This section covers field connections and how themer templates for custom post types and archives can work – Pods & Themer
However, if you don't have an extremely well-rounded understanding of Post types, do not attempt to make any changes to the pods functionality without getting a clarification with specific instructions on what to do.