Steps to disable PayPal in new GoCentral OLS builds
While reviewing GCOLS sites recently, we found that it is defaulting to the old customer's email address once we move it into their account. While we have our developers looking into this, it will require that we manually check that field on both ends to ensure its correct in the mean time. The issue this can cause is that if the client doesn't notice the email address is incorrect, they can potentially set up PayPal with the wrong email address and their payments would be sent there instead.
You should still continue to disable PayPal express, but only after changing the email address to reflect the client's current business email address. Follow the steps below to learn how to do this.
1. Check the PayPal email address prior to disabling PayPal express:
Before disabling the PayPal Express app that the builder ensures that the email address that is listed, matches the business email address that is also being placed in the general store settings.
To do this click on the Account Settings above the Disconnect link:

Next change the email address in the email address field to the current clients email address (it should match the design consultation and the general store settings) and click save: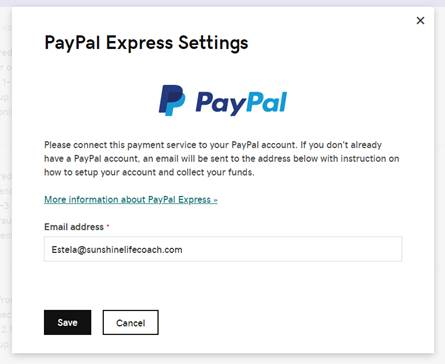 2. Disable PayPal Express:
Then disconnect PayPal until the client is ready to set it up with the credentials of their choice:

For More information on disabling PayPal during the new build process, read the section on it on the GoCentral back-end settings page.
---
Solution submitted by Casey VanVleet