Contact Layout 8 – Info Only
Use Cases
Simply contact, reach out, give feedback on service, ask questions about service
Use on most sites that would prefer not to have a contact form, would like all interactions to be conducted via the information provided, would prefer calls or walk-ins over replying to emails OR already have a booking service set up and don't need another form on their site.
Good for salons, tattoo parlors, home services, restaurants, businesses with bookable services, sites with contact forms somewhere else on their site, etc.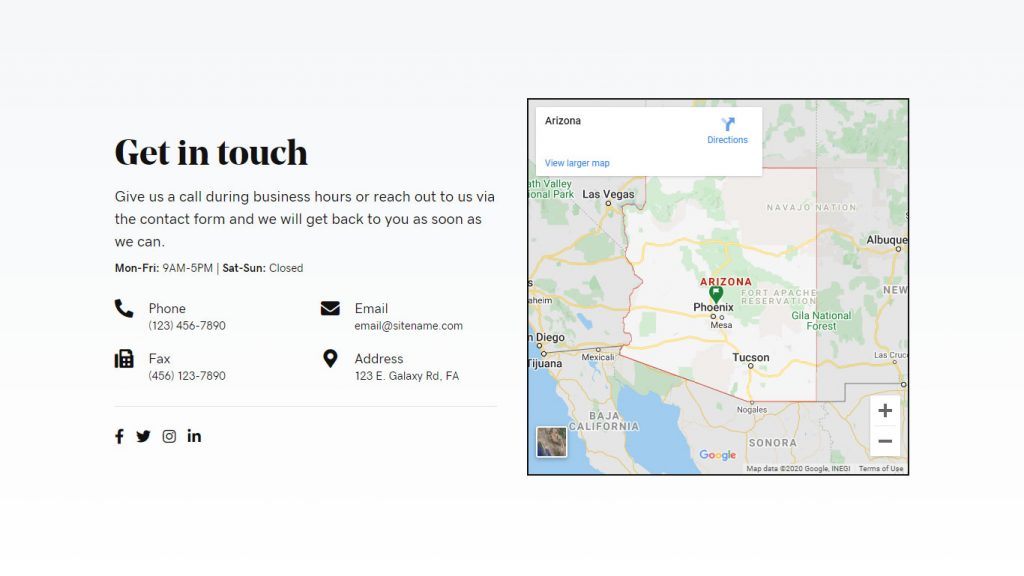 Layout Components
Title – Get in touch
Text – Give us a call during business hours or reach out to us via the contact form and we will get back to you as soon as we can.
Phone
Address
Hours
Social Icons
Notes
When you import the template, if no contact form is already created in gravity, then the form area will appear empty. Make sure you create a form in Gravity first, then import the template and select the form in the styled module. Make any changes, swap out text with copy-writing or keep it if there is no copy, style as needed and then publish.
Download & Import Templates
Choose one of the available template packages to download from the sidebar to the right
Click the button to download the .xml for the desired template package
Go to the site you want to import the template on, once you've installed GD Core and set up all the required plugins
Go to the dashboard > tools > import - then at the bottom, under WordPress click "install now" > then click "run importer"
Select your downloaded template package .xml from the "choose file" button > then click "upload file and import"
Apply Templates to Layouts
Note:
Feel free to adjust the widths of the columns to work with whatever changes you make to the template's components.
Make sure to check these adjustments on tablet and mobile responsive views as well to make sure the layouts appear correct on all screen sizes.
Add a header to begin generating the table of contents