GoDaddy Service Outage Status
GoDaddy Status
https://status.godaddy.com/ is a useful tool to identify any major outages within GoDaddy services and sites. Expand each heading to view outages with related products.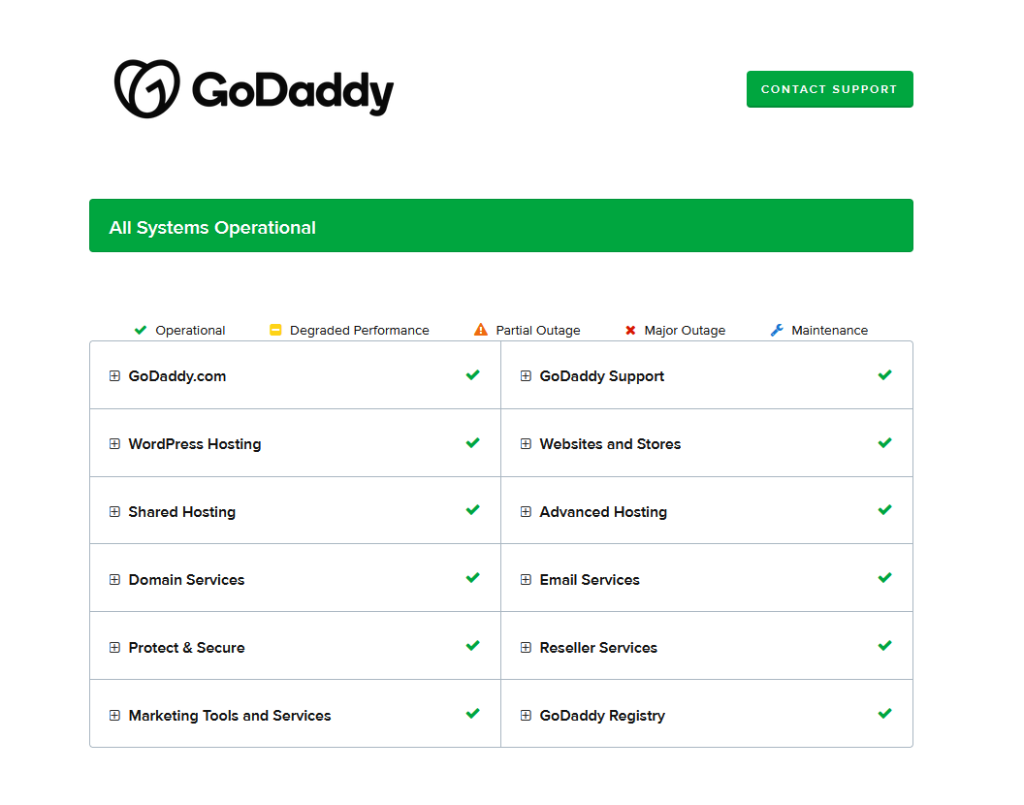 Example Cases
Critical Errors? check the WordPress Hosting tab to see if there are any ongoing server issues
Website not displaying? Check the Domains tab for any ongoing DNS issues. View the WordPress Hosting and Shared Hosting to see if there are any server outages.
Payment Issues? GoDaddy Payments outages can be seen under the Websites and Stores tab.
Websites+Marketing/GoCentral and Legacy Websites issues can be viewed under the Websites and Stores section.
Not Receiving Contact Form Mail? Visit Email Services for any outages.
Shopping Cart issues? Check for outages with Managed WooCommerce under WordPress Hosting or Online Store under Websites and Stores.
Site not Secure? Check SSL Certificates under Protect & Secure for ongoing issues.
Firewall Issues? View Website Security issues onder Protect & Secure.
Related Services
The following services are most closely related to any outage of WDS services. While all columns on the GoDaddy status page are relevant, you may want to begin troubleshooting in these sections first.
WordPress Hosting
WordPress Hosting
Managed WooCommerce Stores
WordPress Premium Support
Shared Hosting
Web Hosting
Web Hosting Plus
Windows Hosting
Websites and Stores
Website Builder ?
Online Store
GoDaddy Payments
Domain Services
Domain Registration
Domain Manager
Domain Name Search
Domain Transfers
Domain Appraisals
Domain Reseller API
Whois
GoDaddy Auctions
DNS
Afternic
Email Services
GoDaddy Workspace Email
Professional Email
Professional Email with Microsoft 365
Advanced Email Security
Email Archiving Services
Email Backup Services
Email & Office Dashboard
Protect & Secure
Website Security
SSL Certificates
Common and Ongoing Issues
Visit the Vendor Hub to view guidance for any currently known issues.