We will install and set up this plugin after API keys have been provided by customer.

WP Store Locator is a powerful and easy to use location management system. You can customize the appearance of the map, and provide custom labels for entry fields. Users can filter the results by radius, and see driving directions to the nearby stores in the language that is set in the admin panel. Google Maps API is required in order for this plugin to work.
Use this plugin when a customer requests a map with multiple address points.
This plugin allows for multiple addresses on one map with geolocating and a search feature built in.
Additional Setup Requirements: Google Maps API Keys are required for setup
---
Install / Activate
Login to your WordPress dashboard
Go to the plugins menu and click "Add New"
Search for "WP Store Locator"
Click "Install Now"
Visit Store Locator > Settings to configure the plugin
Go to Store Locator > Settings to configure WP Store Locator.
---
Google Maps API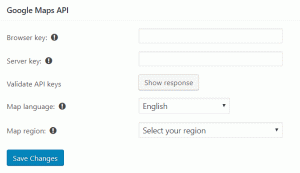 Server key
A server key allows you to monitor the usage of the Google Maps Geocoding API.
Browser key
A browser key allows you to monitor the usage of the Google Maps JavaScript API.
Google Maps no longer allows requests that doesn't include API keys and has an active billing account. You can lower your monthly bill by disabling a couple of options that will reduce the number of API calls.
Validate API keys
This will test the provided API keys and show whether the Google Geocode API returned the expected data or an error message.
Map language
You can set a fixed language for the textual information on the map.
If you leave it empty, the browser's preferred language setting is used, which is recommended.
If you have a multilingual site and you want to switch the map language dynamically, then you can do this with the wpsl_gmap_api_params filter.
Map region
This will bias the geocoding results towards the selected region.
If no region is selected the bias is set to the United States.
Follow the steps outlined in the documentation for additional formatting options: https://wpstorelocator.co/document/configure-wp-store-locator/
---
Add the short code to the page where the map should appear.
[wpsl]
Review the following documentation on the options for short codes: https://wpstorelocator.co/document/shortcodes/