We enable and configure it as needed on WooCommerce sites based on requirements of the customer

Add on to WooCommerce Memberships where members can subscribe to reoccurring payments. Capture More Residual Revenue with Recurring Payments. This plugin allows you to introduce a variety of subscriptions for physical or virtual products and services.
Create and manage products with recurring payments
Introduce a variety of subscriptions for physical or virtual products
Add sign-up fees, offer free trials or set expiration periods
Use WooCommerce Subscriptions to enable reoccurring product payments for customers or members.
You can sell physical, virtual and downloadable products as a subscription. You can also offer services and memberships by setting a subscription to be virtual. This plugin can only work when guest checkout is disabled – all customers will be required to create accounts when purchasing a subscription product.
Use WooCommerce Memberships along with Subscriptions to enable reoccurring payments for members.
Additional Setup Requirements: Require customers to create an account: Disable Guest Checkout
---
1. Go to dashboard > PWS Core and install/activate the plugin
2. Go to dashboard > WooCommerce > Settings > Subscriptions
Customize buttons, roles, switching settings and checkout options here.
3. Go to WooCommerce > Products > Add Product
4. Select Simple Subscription or Variable Subscription as the product type and select settings specific to that product.

Creating a Subscription Product
---
Subscription Roles Settings (Integration with Members)
A user must create an account when signing up for a subscription, regardless of whether it's required in WooCommerce. This is because subscriptions persist beyond a transaction and must be associated with a user account.
Subscriber Default Role – control the role assigned to customers when they create a subscription. By default, this is the WordPress built-in Subscriber role.
Inactive Subscriber Role – control the role assigned to subscribers when their subscription expires, is canceled or suspended (by you, the payment gateway or the customer). By default, this is the WooCommerce's built-in Customer role.
To assign roles outside of WordPress and WooCommerce roles, use a membership extension such as Members.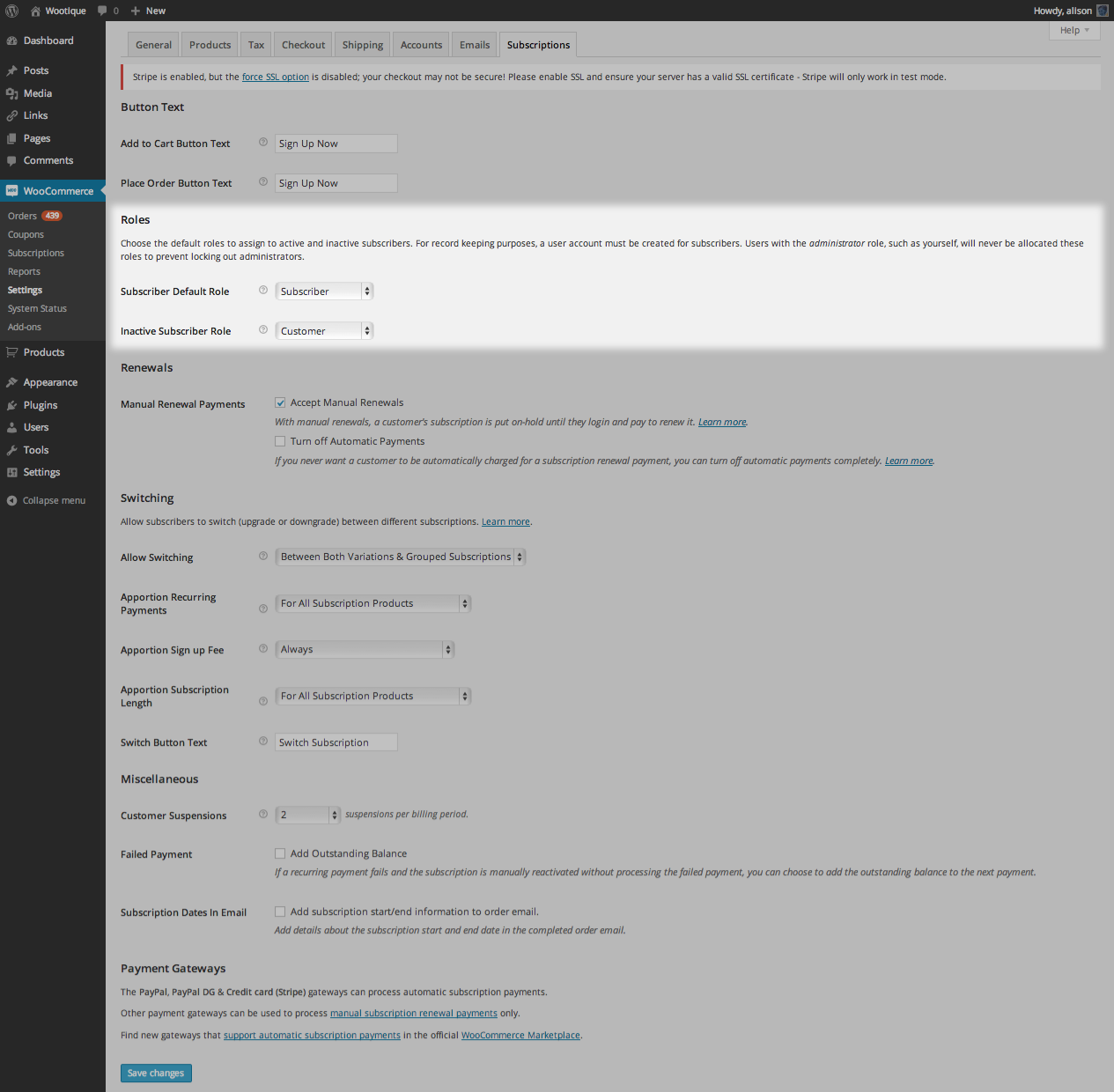 To get detailed fine-grained control over permissions given to a user on a per-product basis, use WooCommerce Memberships.
---
Subscriptions & Memberships (Integration with Woo Memberships)
While WooCommerce Memberships works very well on its own to help you sell set-length memberships, it's very tightly integrated with WooCommerce Subscriptions to let you sell recurring memberships, as well as take advantage of some additional features that Subscriptions provides.
Subscriptions allows your customers to upgrade, downgrade, or pause their own subscriptions, which will also affect memberships associated with the subscription. You can also offer free trials and recurring billing (instead of set-length, expiring memberships). Click here to read more
---
Subscription Emails
WooCommerce Subscriptions communicates with you and your store's customers via a number of emails on specific subscription related events.
Similar to WooCommerce emails, you can customize, enable/disable and configure recipients for subscription related emails. To customize subscription emails, go to: WooCommerce > Settings > Emails.
The following emails are included with WooCommerce Subscriptions: