We enable and configure it as needed on WooCommerce sites based on requirements of the customer

Sell access to memberships, include memberships with product purchases, manually assign memberships, and completely integrate member perks within your store.
Memberships allows you to create an entire membership system
Sell or Assign Memberships
Grant access to the same membership from several products
Assign memberships manually for an invite-only members area
WooCommerce Memberships is not just another plugin for restricting your site's content: it's an easy-to-use, site-wide membership solution that brings your content, shop, and memberships together.
Use WooCommerce Memberships when customers want the option to sell their membership plan.
The three options for gaining access to a membership within the scope of this plugin are: by creating a membership manually, via a user registering for an account on the site, or via purchasing membership access as a product.
Use WooCommerce Subscriptions along with Memberships to enable reoccurring payments for members.
Additional Setup Requirements: n/a
---
1. Go to dashboard > PWS Core and install/activate the plugin
2. Go to dashboard > WooCommerce > Settings > Memberships
3. If you want to get started quickly, you probably don't need to adjust any of the Memberships settings, which should work for most shops. Restricted content will include the title and featured image when displayed on your site and an excerpt will be shown, but full content will not be accessible.
If you'd like to change your restriction mode or edit restriction messages, you can take the time to do so (more details in the settings document). Otherwise, you can move on to creating your membership product. (click here for quick start)
Sell or Assign Memberships
Memberships are not a specific type of WooCommerce product; instead, membership plans are created independently from products. This lets you determine how access is granted for maximum flexibility. You can assign 0 or more products (of almost any type) to a membership plan to support several types of memberships:
sell a membership as stand-alone product — create a product for the membership, then tie the plan to that product to sell it
grant access to a membership as part of a product purchase — i.e., buy a subscription for a meal box, get access to the recipes section for free
grant access to the same membership from several products (i.e., a yearly purchase or a monthly subscription)
assign memberships manually for an invite-only members area
---
Sell your membership
If you only want to manually grant access to memberships on your site, you can skip this setup step. If you'd like to sell membership access, you'll need to create a product to do so.
Memberships are not a particular product type; instead, they can be tied to any kind of product on your site. This lets us support granting access to a membership from any type of product, including simple products, a variable product, a particular variation of a product, a simple subscription, a variable subscription, a particular subscription variation, etc.
To sell your membership, create the kind of product you'd like to use to sell it. For example, if I want to sell a one-year membership to my site, I can create a simple product with the membership cost as the price: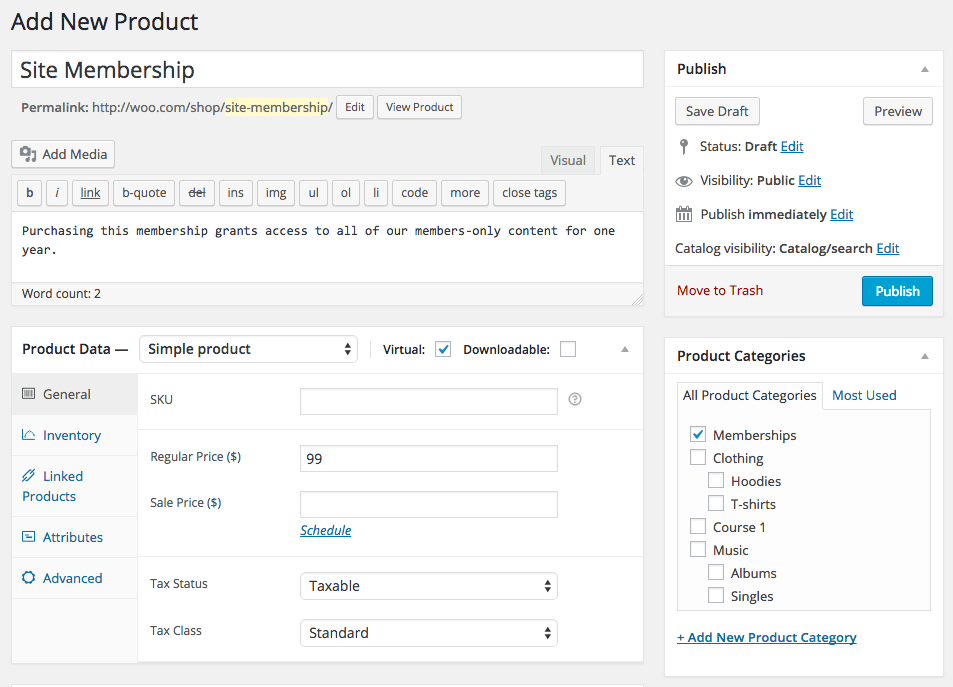 We'll later tie the membership to this product.
I can use any other product type if desired, such as variable product. I can tie different memberships to each variation if desired.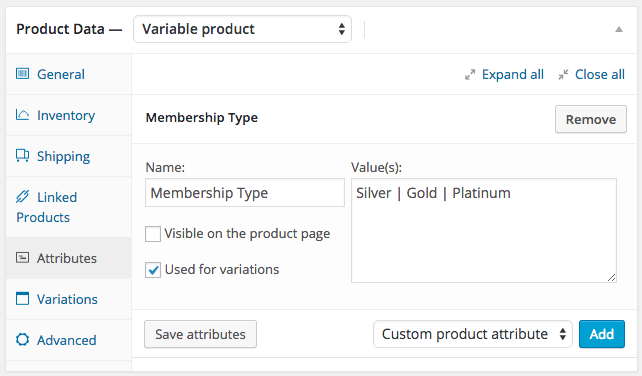 Once you've created the product(s) that you'll use to sell the membership, you can set up the membership plan.
---
Create a membership plan
To create your membership plan, go to WooCommerce > Memberships > Membership Plans, and then click "Add Membership Plan". This will let you create your first plan. If you want more detailed instructions on creating plans, you can view the membership plans document.
Plans can be created from WooCommerce > Memberships > Membership Plans. Please see the Subscriptions integration document for more details on additional Subscriptions-specific settings.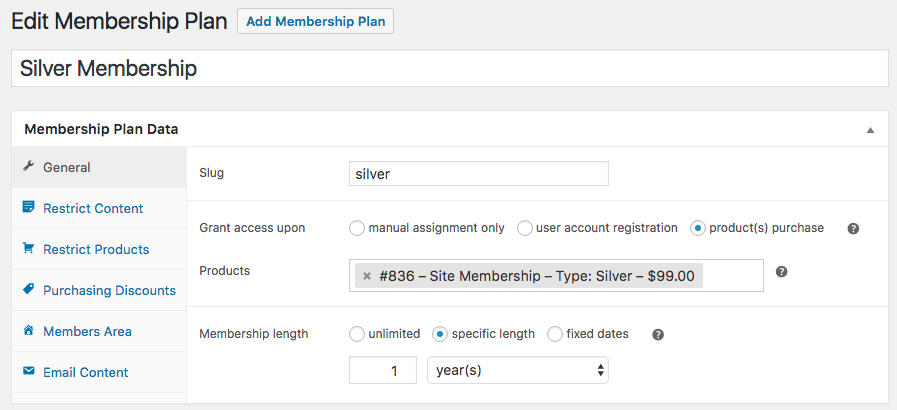 Grant access upon – Select how members should gain access to this plan:
manual assignment only – Only add members via the admin. Members can always be added manually, regardless of how access is granted; selecting this option ensures that admin action is the only way members can be created.
user account registration – Creates memberships for this plan when a new user registers for an account on your site. Acess is granted for any registration (e.g. WooCommerce checkout, WordPress registration, or account). Can be used for free memberships.
product(s) purchase – Creates memberships via a product purchase.
---
Create / manage members
You can manually create members or view / edit existing memberships from the WooCommerce > Memberships > Members screen. Each member is a WordPress user and WooCommerce customer; the membership login and account is handled by WooCommerce, and Memberships adds additional information to the account, such as the Member Area.
If you'd like further details on creating or managing memberships, please view the user memberships document.